Reading Time:
8
minutes
From empowering teams at work, to workers taking back control and communities getting together to lead the change they want to see happen.
Quite often, you hear/read about a concept somewhere, and then it keeps popping up elsewhere. Recently, for me, it was about people self-organising to reach their goals.
Agile works better when the team is really empowered
In my experience, in different work places and contexts, the teams I was part of did the best work when the stakeholders were off or busy doing something else with no time to question us or interfere.
Suddenly, we could decide together as a team what would work best to achieve our goals, do it, reflect, decide what to do next, iterate.
The goals and deadlines had been set by the stakeholders and we sometime didn't agree with it, but we could do what we felt was best, as a group, to reach them. There was a real motivation and drive to do this together and it felt surprisingly easy.
Unfortunately, at some point, managers and/or stakeholders would come back in the picture, impose a different direction, dismiss the work and progress done, taking away the motivation and creativity of the team.
Not too small but not too big either
If your team is too small, then you are missing some skills and variety of point of views. But if it's too big, then you will need more time to communicate, reach a shared understanding and take decisions that satisfy everyone. Compromises becomes very hard to make.
This is true of team at work but is also the experience of mix groups of people like the Indignados in Spain, Nuit Debout and the Gilets jaunes (yellow vests) in France. I'll come back to this.
Maximum of 12 nurses per team at Buurtzorg
'Buurtzorg' is Dutch for Neighbourhood Care. This is a nurse-led model of holistic care provided by self-managed neighbourhood teams.
Teams of 10 or 12 decide how they organise their own work, taken on new clients, share responsibilities. They even hire new nurses for the team.
When the group becomes too big, it splits in two. New people come in, helped and trained by the rest of team.
"Teams are supported by regional coaches, an IT system that works because nurses were involved in designing it, and back office support designed around and dedicated to their needs…

…Patient satisfaction rates are the highest of any healthcare organisation, impressive financial savings have been made and employee satisfaction is high. "

 Buurtzorg

After 10 year, the company now has about 1000 teams, all self-managed.
More on this:
The 7 Different Team Roles Of Buurtzorg's Successful Self-Managed Teams (Corporate Rebels)
Communities — changing the dynamic
The Buurtzorg nurses are very close to the community they serve. They often also live there. This is a major part of the success of this approach.
Moving from: Done to → Done for → Done with → Done by
Things are changing slowing. In Scotland now, the government aims at designing services and even the policies 'with' the citizens, not 'for' them.
It's not easy, we need to find ways to make this work and enable real participation of the citizens.
The Scottish Approach to Service Design (SAtSD) (Gov.scot)
Asset-based relational approaches
The principles are simple: services should be developed on the basis that 'nothing for us or about us should be done without us'.
You change the approach of looking at what's wrong, to what's strong in a neighbourhood, what assets they have, and then you design and build from this.
"Don't Just deliver services — Listen and empower "

 Sarah Drummond
Service design: creating a relational state (Medium)
People from a community come together and decide to take actions on what's important to them.
This can be done by communities of place or communities of shared identity.
"We need to learn. We need to listen. And frankly maybe we need to give up our power "

Anita Kerwin-Nye
Learn about Community development in 60 seconds:
CD in 60 seconds | SCDC — We believe communities matter (SCDC.org)
French farmers buying their own supermarket
Like everywhere else, France has seen small town markets, and main street shops replaced by supermarkets. The owners of big corporations imposing low prices on farmers, driving a lot of them in debt and importing cheaper food from other countries instead of using local produces.
Ironically, some of these supermarkets in town centres ended up closing too because of bigger ones with even lower prices opening further away.
In Colmar (East of France), when the former Lidl supermarket closed, 35 farmers got together and bought it back. They now sell their produces there, and take turn to be at the supermarket, serving customers. It works really well, they make more money, can talk about their trade directly to the customers but also get first hand feedback and suggestions. Produces are cheaper for the customers and farmers can sell all their production (not only the fruits and vegs respecting specific rules for their shape and variety).
Workers buying back their own factory
When Unilever (big British Dutch company) decided to relocate their French tea factory near Marseille because labour would be cheaper in Poland, 77 workers fought the decision and started occupying the factory to prevent Unilever from moving the machines and equipments. It was the start of a long fight: 1336 days.
While occupying the factory they talked for hours about what they could do themselves, started to make plans , self-organised and they finally managed to create a SCOP (Cooperative and participative society).
They are now selling their own tea called '1336' (number of days of fighting Unilever). They support French organic farming and have strengthen local agriculture.
Les anciens salariés de Fralib créent "1336" : leur propre marque de thé (La tribune – In French)
Workers' control at Fralib: the brand with the Elephant (Worker Control)
Democracy as we know it is broken
The US, Spain, France and the UK have different government systems. In all of them, you vote at some point in time, deciding who you think should represent you, quite often choosing the person you estimate being 'not as bad' as the others instead of really believing in a candidate. And that's it. You don't get to decide anything until the next election.
If the person who won the election doesn't do what they say they would, there isn't much you can do about it.
Without even going into the fairness of the different voting system, it's no wonder around one third of the registered voters don't vote. If non-voters were counted as a party, they would win most elections…
To add to this, there is a growing feeling that the elected people have completely lost track of what every day life looks like for 'ordinary' people.
People taking the streets, debating, imagining a better system
Nuit Debout in France, Occupy Wall Street in the US and the Indignados in Spain are all experiences of people taking the streets, exchanging ideas, debating about politics, and their hopes for a better life, a fairer system. Most of them were people living in big cities.
These movements all avoided engaging with ideological agendas, unions and, most importantly: professional politicians.
Nuit Debout
Nuit Debout started after a big demonstration on the 31st March 2016 against a new labour law and lasted until June, in Paris. In the evenings, people would come and debate on Place de la République, make a camp, putting it away every morning and building it back up every night. Regulars started to organise activities, debates, swaps skills, teach each others. A system of communication was created based on hand signals to allow debating and voting.
12 more French cities joined, each organising their own way. An orchestra composed of professionals and amateurs players did a few representations on weekends.
Nuit Debout Orchestra — Bella Ciao — Place de la République — Paris:
Nuit Debout failed to represent everyone
The regulars quickly realised that they were failing to represent certains groups:
young people living in the suburbs of Paris
parents who could not come at night because of child care issues
low income workers who could not afford to come to Paris or were too tired to stay up
the rural world
disabled people (Paris is not very accessible)
Different attempts to join with other movements and groups were done but they failed to find enough common grounds and goals.
New forms of protests
With the social media, new forms of protest emerged, reaching different audiences. This flamenco at a Spanish bank for example:
Gilets jaunes: taking the roundabouts
With the Yellow vests, you looks at very different people protesting and getting together.
In November 2018, the French government decided to raise the tax for petrol. This came as the last drop for very poor workers who have no choice but to take their car to go to work because of lack of public transports.
Most of them were people who had never been at a protest. They would normally not talk about their daily struggle with others because of the shame attached to being unable to provide the basic for yourself, your family, your children, even when you are working hard.
They took the roundabouts. Built camps, displayed placards, and started talking with others on the roundabouts, and drivers stopping.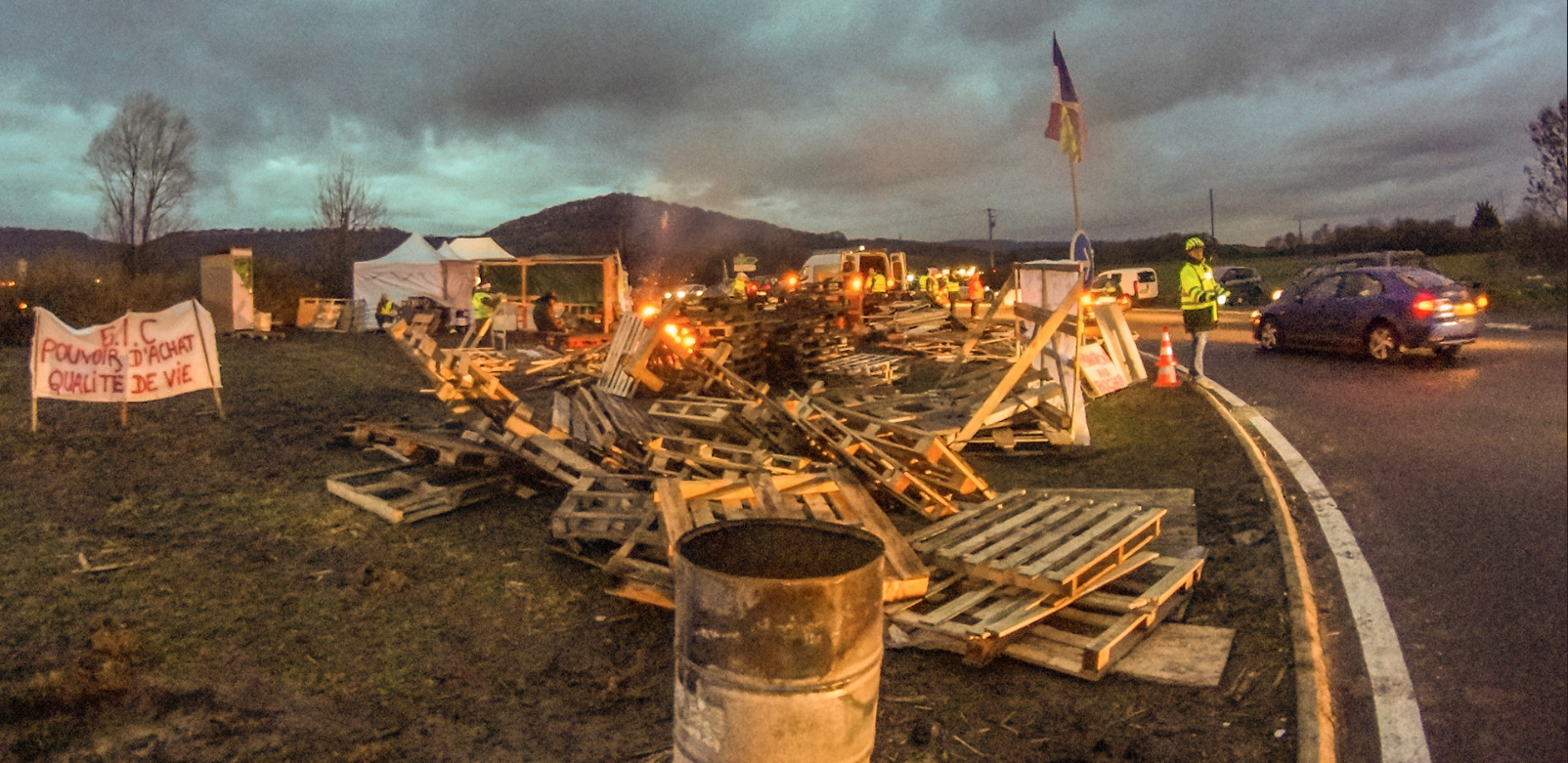 This time, the movement started outside the big towns, and got pensioners, unemployed people, farmers, truck drivers, and disabled people joining, talking, getting to know each other, creating new solidarity and fraternity. Locals started donating food, money and other supplies.
As well as meeting on roundabouts, supermarkets and petrol stations, they organised themselves on social media, via online groups and Facebook pages, creating petitions, videos and calls to action.
Rotas have been organised according to protesters' availability to maintain cover on roundabouts but also to go to the weekly Saturday demonstration in Paris, because this is what the government and the media would mostly care about.
They also quickly asked for the R.I.C. (=Citizen Initiative Referendum) where you can:
propose an idea to the parliament if enough people agree with it (via petition)
Revoke an elected member of parliament if they failed to respect what they were elected for
ask for a law to be revoked if enough people disagree with it (via petition)
ask for a modification of the constitution
It's been over a year now, and every Saturday, you see yellow vest protesting somewhere in Paris and in other big cities.
Who are the 'gilets jaunes'? (BBC)
Where next?
The Indignados and the Yellow vests have revealed a population that the governments and the media mostly ignored until then.
"The movement [ Indignados ] experimented with bottom-up networked approaches to challenge the rigid, top-down, party driven system "

Diego Beas
They are now organised outside the usual parties and unions, and willing to get involved to change the system, horizontally, with no leader but with decisions taken in common.
Some have decided to claim back the power at a community level, and have started to take things in their own hands locally.
"The overriding problem is to change the structure of society so that people gain power. The best arena to do that is the municipality — the city, town, and village — where we have an opportunity to create a face-to-face democracy "

 Murray Bookchin
These are interesting times.
To finish, a song you often hear in demonstrations in France, by Zebda ,a group from Toulouse, who adapted freely the 'Chant des partisans' (song from the French resistance) — Motivés (= let's stay motivated)
This post was prompted by a program in French: an interview of Floreal M. Romero, talking about Murray Bookchin approach to Social ecology and Libertarian municipalism — Sorry I can't share, it's in French, and with a paywall.
More links
Murray Bookchin (Wikipedia)
The Self-Management Hype: Aren't We Just Reinventing The Wheel? (Corporate Rebels)
How Spain's 15-M movement is redefining politics | Diego Beas (The Guardian)
Podemos, the 15M Indignados Movement and the Radical Left in Spain (New Pol)
Estates (By Anita Kerwin-Nye – Poverty of ambition? Depends what you consider to be ambition)