Reading Time:
10
minutes
My first time at SDinGOV was in 2019. At the time, I was pretty sure I wanted to be a service designer but never had the role title yet.
I would never have thought I'd be one of the speakers one day, but here you go. You can access my Google slides.
[Edit 24/11: you can watch the talk on Vimeo now, but there were technical issues so you won't see me, just the slides and the recording starts about 8 min late]
I've already shared about being a speaker at UX Scotland back in June, this time was not so different. So, in this post, I'll give some highlights from the conference and will share about my experience as an attendee.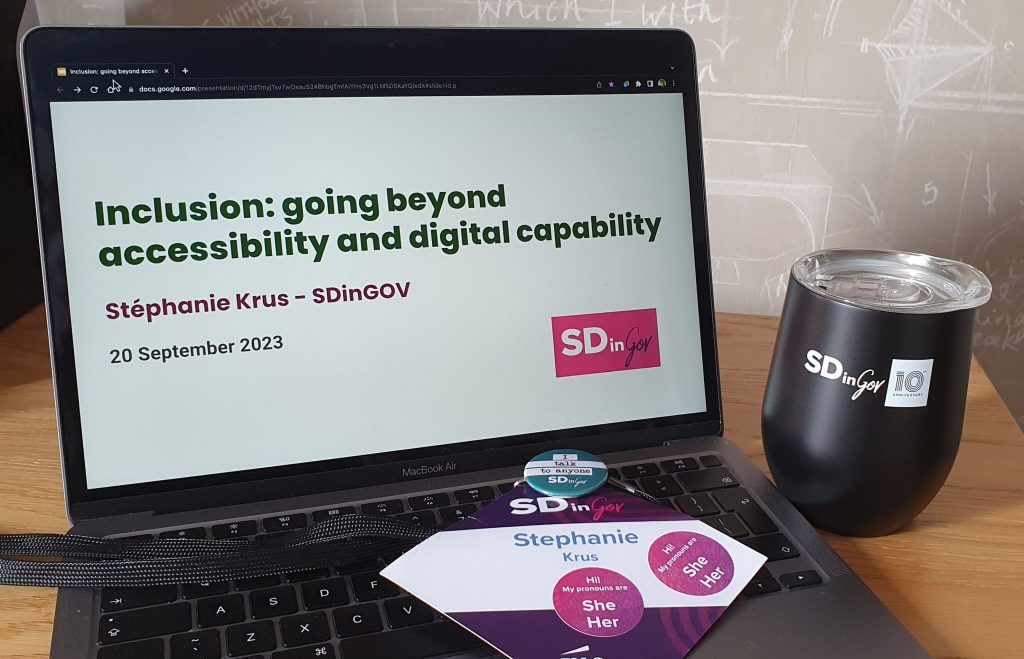 Slides and recordings
Some talks were recorded and should be available at some point.
The slides shared should appear on the programme, but in the meantime, I've put all the slide decks files I have gathered in a folder you can access.
About half the speakers have shared their slides at the time of writing. None of the keynote speakers have shared theirs but this might come later (?).
Some shared links to their slides instead:
My highlights
I've attended quite a few sessions, but missed one keynote speaker. I'm sharing some highlights in chronological order.
Kate Tarling – Keynote – Building successful service organisations
There was a lot to take from this talk.
Guardianship of an end to end service instead of accountability: it's a good to have one person who overviews the end to end service but they don't have to become accountable for the whole thing where different people were accountable for parts of it before. It's more about being a guardian, holding the space, and caring about what people in that space care about.
Don't change everything all at once (I've seen this before…) but have a model that supports continuous change and service improvement. You can have a high level prioritisation every 4 months for example which ripples and let individuals teams adjust and do their own prioritisation.
Tips:
find the right people
know the mechanisms, groups and boards: see which one matters, look out for engagement
position yourself in the right conversations: know the org, do things or form ideas about the big shared problems
tell the story: 4 to 5 slides, expose the trade-offs, 'this – then this – then that'
make it real: reinterpret your org as services, what gets measured gets managed, do things and show others
prepare options and next steps: who to engage with, what work to do, where to start, connect with others doing similar work, and be prepared as you never know when you will have a chance to talk to someone, so be ready
This is not service evolution, it's service revolution – Rachel Furze, Stephen Petch, Kaz Hufton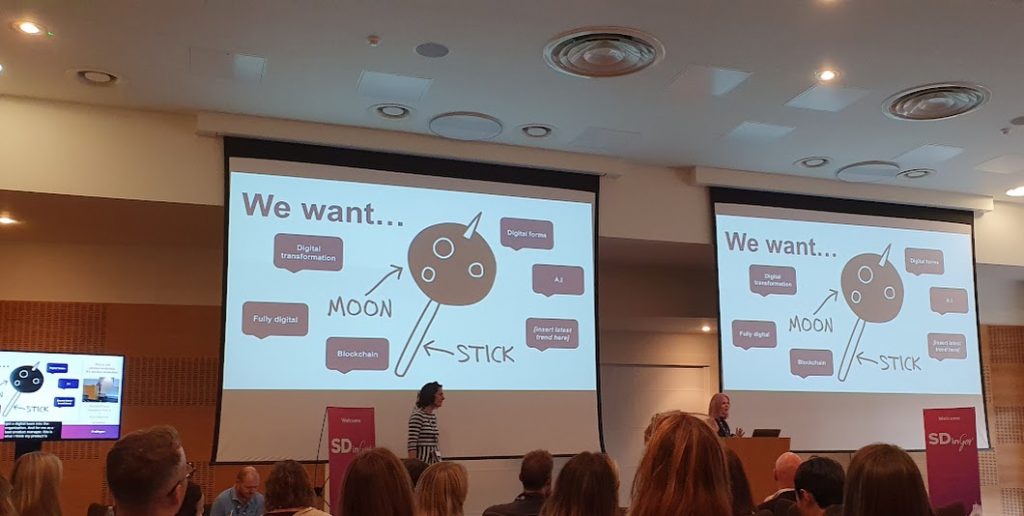 Modernising lasting power of attorney – case study slides
One of my favourite sessions: the story was interesting, the 3 speakers were good and funny, and there was a lot of practical nuggets. They shared part of the slides so you can read them for yourself.
The most interesting for me was the mention of a different format for their service blueprint. You can learn more here: Why we changed the format of the service blueprint – Morgan Miller.
They took away the swim lanes, and the line of visibility, and instead, colour coded the layers. They started to work on it with only 4 people, drawing out the bones of the service, to optimise the stakeholders' time. Then added the details with multi-disciplinary groups. The map became the index to find more details which lived elsewhere.
HMRC breaking bad policy- Faye Churchill
Another great session where the speaker gave a lot of practical tips. Slides were shared so you can read them .
I was interested in the way they were looking at service assessment, where instead of leaving it at the end of a phase which can be stressful, they were discussing their plan at the start with their peers which worked better for them.
Like the previous session, the story of the work was told over many years which showed how things had evolved over time.
Designing with data using a life-course approach – Chiara Garattini
This session was a nice surprise. To be honest, my main criteria to pick this session is that it was in a room where I would have a table to take notes as I had struggled a bit in the previous one 😉
I've really enjoyed it. Chiara is a great speaker, clear, fun and she did a great job at making data interesting. The slides were shared.
She told us about the tyranny of numbers: "numerical and codified information (data) about people are often interpreted and used as absolute, rigid representation of the truth instead of the nuanced, sophisticated artefact that they are".
She used the example of visiting the GP after a fall, where the measurements, medical notes and clinical codes would be part of the data generated with additional timestamps and more info to provide rich contextual information.
There are primary reasons why data is collected, but we can also have secondary reasons like looking at trends for example. This kind of things was useful during lockdown to establish shielding lists based on medical data gathered over years to see who was most at risk.
To illustrate that things are not 'morality-free' but have morality and agency by design, she told us about the Berlin key.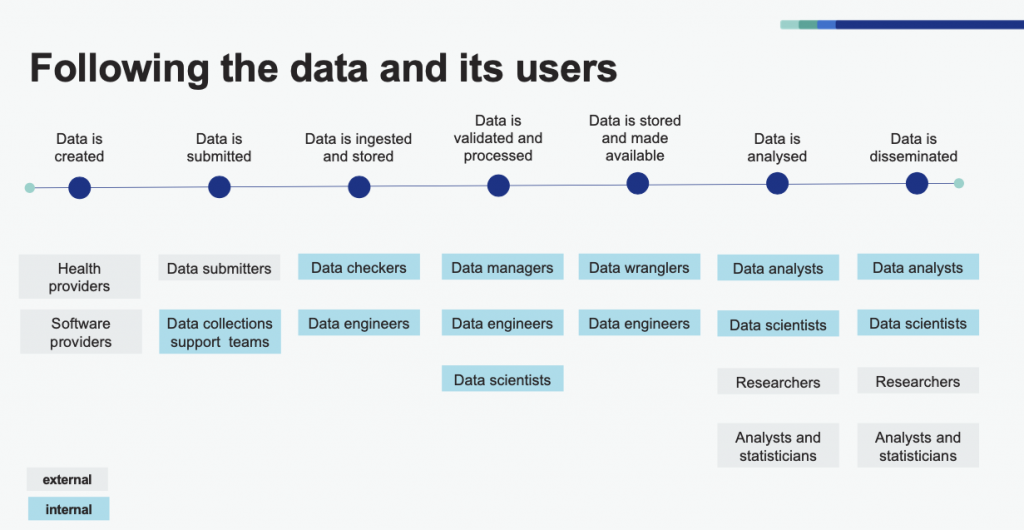 Workshop: Triz, w³izz & wicked questions – an exploration of liberating structures – Valerie McLean – Sarah Liston
This was a great workshop, 2 hours but very enjoyable. We got to try 4 Liberating Structures (LS).
If you don't know what LS are:
"Simple rules that make it easy to include and unleash everyone in shaping the future"

– Henri Lipmanowicz and Keith McCandless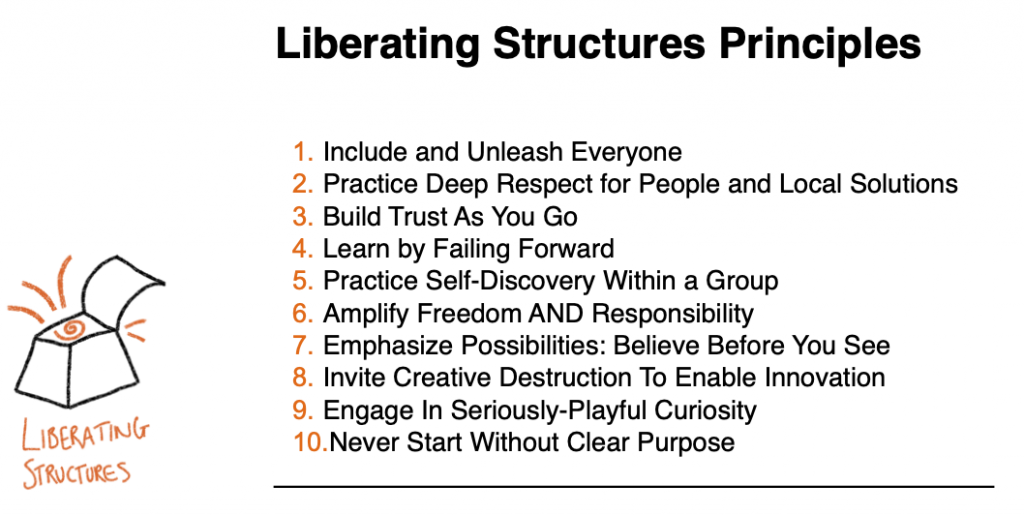 Impromptu networking
You have simple questions which you discuss with one person at the time, 3 times.. I did this with Jackie, then Pablo, and Shayman. We tried this with "what makes a good/bad meeting". Most people had the same opinions, but you could go a bit further with each person. It feels safe to speak to only one person at a time before sharing with a wider group.
Wicked questions
For example: "How can I protect my children and give them freedom at the same time?" or if you want a work related one: "How can we ensure content makes sense to users whilst also representing policies and laws appropriately?"
This LS is a good way to help people voice challenges or conflicts they have at work in a safe way and it generates lots of ideas. These often come from conflicting requests from stakeholders.
Troika consulting
Group of 3; 2 people try to help the 3rd person – the client – to resolve an issue they have. It was interesting to try and I got to meet Alexandra as my client 😉 . This structure can be used to get help from colleagues around you.
25/10
This one was fun, with music. Each person write an idea on a card, we used "how to make the best conference ever" and people move around exchanging cards. When the music stops, you read the card you have and mark the idea from 1 to 5. You do this 5 times. The best possible mark is 25 (hence the name of the LS).
You can read about doing the Liberating Structure 25/10 crowd sourcing online on Medium.
If you are curious
I've written about LS in a post before. You can try the "LS Matchmaker" a spreadsheet which helps you find the right LS to use depending on the situation. The document doesn't mention who created it but I think it's David Heath.
Transcending Black Realities: The Possibilities of Joy & Imagination – Julian Thompson – Keynote
I've enjoyed this session, it felt very different, optimistic and forced us to think.
"If you are Black or an ethnic minority in modern Britain, it can often still feel like you're living in a different world"

Equality and Human Rights Commission, 2016
Julian said it felt like "you are living in someone else's world", that the world has not been designed with you in mind. I think in some cases, it's even worse and it has been designed against you, like the "hostile environment" for example.
So we need to "conceive new and alternative worlds … not just create new ways to cope with the existing one."
"Imagination is one of the spoils of colonization, which in many ways is claiming who gets to imagine the future for a given geography. Losing our imagination is a symptom of trauma. Reclaiming the right to dream the future, strengthening the muscle to imagine together as Black people, is a revolutionary decolonizing activity."

Adrienne Maree Brown, Emergent Strategy: Shaping Change, Changing Worlds
He made two points:
If we are not active in conceiving new alternatives – we will continue to live in someone else's future
Reverse the effects oppression has had on our imaginations
He left us with 3 questions:
What if there is a Black Imagination Lab in Government?
What if there was national investment in infrastructure for collective imagination?
What would the world look like if it was designed with philosophies of Ubuntu and Reparations?
Is co-design futile? – Martha Edwards
Really nice session again, the slides were shared so you can read them. It resonates with me as co-design is something I would be really interested to do in my practice but like Martha, I feel the conditions are often not right in government unfortunately.

Session I did not attend
It's hard to chose sometimes, so I missed some sessions I would have liked to attend.
Experience as an attendee
I was my second in person conference since lockdown. I did enjoy some aspects like:
randomly meeting new people over lunch, or during shorter breaks which is not something I would get online
working with other participants during workshops
putting a face on some people I only knew online
meeting people outside the conference time
I've learned a lot and had a nice time, but I really prefer online events.
Things that are better for me online
setting during sessions: I can write or type my notes at my desk, have my drink near by, move around without disturbing anyone, take screenshots without heads in the way
see/hear: in person, there were some rooms where the sound was not great and depending on where you're sitting you can't always see the slides well
change my mind: if a session is not as good as expected, you can just leave the call and move to another one; in real life, depending on where you seat, you will bother people and don't know if there is a space for you in another session
leave it for later: online sessions are often recorded, if I'm not in the right state of mind to attend (6 hours of sessions a day , for 3 days is a lot to absorb) I can check the recording later
less time and money needed: commuting and accommodation add to the price of the event itself; online the tickets are usually already cheaper as well
Shorter events, recorded, material shared
3 days is a lot, there is only so much you can take on. I prefer shorter events, like one day conference or even meet-up or other 2 hours sessions.
I like to go back to things I might have missed, be able to stop for a while or check later at a time where I'm ready to consume new info. So recordings are ideal for me. SDinGOV should have more recordings this year than the past one. I'm looking forward to this and hope it will be available publicly.
I like when the material like slides or extra resources is shared too, HmntyCntrd events are great for that.
Accessibility Scotland is a good format but still in person: one day, single track, real time captions and BSL interpreters, sitting at table with enough space to move around, all the slides are shared on one page before the event and everything is recorded and available later.
ID24: all online, and recorded over 24 hours.

And there is still time to book your ticket for the Magnify conference: the sessions are recorded in advance, captions and transcript are available, and sessions are spread over 2 weeks from Monday 6 to Wednesday 15 November. This is a really good format. They also encourage discussing in their Slack space, which is something I've missed at SDinGOV this year. People were hardly using Slack so if you were not part of a face to face discussion you would miss it. There wasn't much on social media either compared to previous times.
Magnify is the next conference for me, so it you are attending as well, I might 'see' you online.